More Info > About Frank Hansen
About Frank Hansen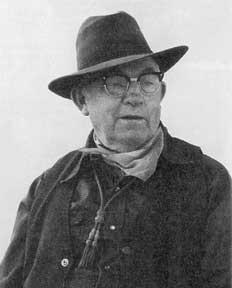 Riding the Trails
Excerpts from The Western Horseman March 1984
Article and Photo by Kurt Markus

What looks like a poor man's Veg-O-Matic is really the Hansen String Cutter, not intended to slice or dice carrots but very handy at creating a perfect rawhide or leather string. Lakeview, Ore., braider Frank Hansen "invented" this machine for his own use, calling to play devices he's seen other braiders build – and his own imagination.

Braiders will be able to braid using strings they've always desired but could never craft – and spending less time preparing their strings.

The string cutters, both the blade to cut the width and the blade to bevel, feature spring steel fingers to guide the strings as they're pulled through. The splitter is a Hansen original, and instead of incorporating a moving roller, Frank built his splitter with a fixed, eccentrically-shaped wheel which can be locked into place to ensure an even split. With proper sharpening, the splitter can product a string 1/32" thick: "I can take the high spots off a stillborn calf hide," Frank attests.

The Hansen String Cutter is built to endure a lifetime – even if it is used additionally to make the family's salads. And when it is not in use, it can double as the coffee table centerpiece, the estate heirloom of avant-garde sculpture. Tell your friends you bought it in New York.


---














Above: Frank and Jean Hansen
Below: Braiding Sample




Awards & Recognition

Best Craftsman
2004 Western Art Roundup
Winnemucca, Nevada

Appreciation Award
2000 & 2001 Western Art Roundup
Winnemucca, Nevada

Gold Appreciation Award
Western Art Roundup
Winnemucca, Nevada

Hall of Fame Life Member
Pendleton Round-Up

Exhibits

The Black Cowboy Museum
Denver, Colorado

The Cowboy Hall of Fame
Oklahoma City, Oklahoma

Jordan Valley Museum
Oregon

Buenos Aires, Argentina
Private home

Cowboy Hall of Fame
Winnemucca, Nevada

Pendleton Round-Up
Coming soon pending building refurbishing.